"Bennington has limited group opportunity for children to learn how to express their emotions. I am thankful

Come Draw With Me

exists for children to learn these skills."
Denise Main, Family Social Worker for Sunrise Family Service
For Kindergarten – 2nd Grade, Ages 4-8
Come Draw With Me is designed to reach young people who have difficulty expressing their emotions appropriately.  When children have better communication skills, they are more apt to be successful and experience greater self-esteem.  The goal of Come Draw With Me (CDWM) is to provide a forum for young people to air their thoughts and feelings through story telling and expressive arts.  CDWM has lots of opportunity to explore children's literature and artistic projects.  This is an after school program that runs from 8-10 weeks.  School counselors or community social services refer the children and it is limited to 6 children to give individual attention.  A Bennington College student will return for a second term, and a Southern Vermont College student has committed her time to the program.  There will be a parental permission form sent to each of the children's parents (see attached form).
For more information or to schedule a visit to your school/classroom, please contact Tiffany at (802) 442-7007.
To download a flyer, click here.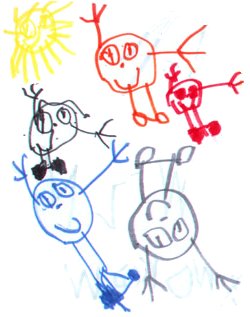 Molly Stark Elementary School Family Center Director, Judy Cohen stated, "The children really looked forward to CDWM".  Children consistently asked to come back the next day.  Some comments from the children about the program were:
"Can I really take my project home?"
"Can I stay here and draw some more?"
"People are different than other people and that's a good thing."
"I like it because it is stuff to do."