Caring Dads of Bennington County: Helping Fathers Value Their Children
Caring Dads of Bennington County is a collaborative multi-agency program which PAVE strongly supports. This group offers a unique opportunity for men to connect as fathers. Participants can sign up to attend 17 sessions, or they may be court-ordered to do so. For more information, contact Nora Parsons at 802-447-4811. Download Caring Dads brochure.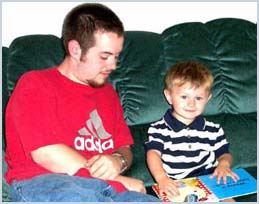 Through 17 sessions, fathers will:
Develop skills to cope in healthy ways with frustrating situations;
Understand how different fathering strategies and choices affect children;
Increase their awareness of controlling, abusive, and neglectful attitudes and behaviors;
Be provided with strategies to strengthen the father-child relationship.
Is Caring Dads Right For You?
Do you sometimes worry about how angry you feel about your child?
Do you sometimes have a hard time letting go angry thoughts about your children or your children's mother?
Do you often feel like your children are intentionally trying to annoy you?
Do you ever feel like you interrogate your children about what goes on at their mother's house?
Do you ever criticize your children's mother in front of your children?
Facts About Fathering
Fathers can and want to be a positive influence in the lives of their children. Positively involved fathers enhance their children's academic, personal and social development.
Unfortunately, fathers can also have a negative impact on their children. This occurs when fathers:
Do not understand the feelings and needs of their children;
Harshly discipline their children;
Argue frequently with their children's mothers;
Use abusive and controlling behavior.
Eligibility to join Caring Dads
Eligibility is determined during a required screening interview. Referrals are accepted from other organizations. The Caring Dads runs once a week for 17 weeks, combining active group discussions, exercises and homework.
Funding for Caring Dads is provided by:
The Department of Corrections
The Department of Children and Families
The Sunrise Family Resource Center
Community Organizations
Private Donations