PAVE is honored to award Nick Monte of the Village Chocolate Shoppe with the second annual PAVE Supporter and Recognition Award, this one for 2013. Linda Campbell, Executive Director of PAVE, presented him with the award at a recognition dinner held in his honor on May 4 at the home of Paula Sherman, President of the Board of Directors. Nick has been a long standing supporter of PAVE, helping with fundraising efforts by generous donations of chocolate and his valuable time and expertise as a chocolatier. Most recently he created the world's largest peanut butter cup, dividing the 209 lb. gigantic confection into 500 pieces and giving all proceeds to PAVE.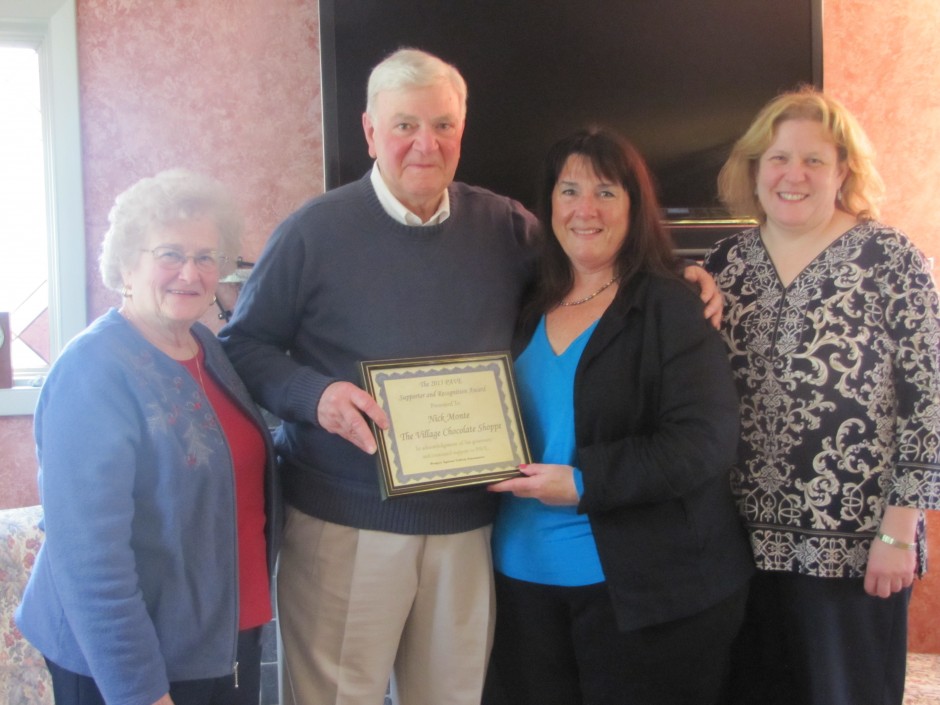 Nick was joined in this project by his wife, Judy, and their two daughters and son, all of whom helped with the once in a lifetime event. Bennington Main Street was packed with eager onlookers as the Montes built the peanut butter cup, layer upon layer, and then served it up to over a hundred chocolate lovers.
It is through the generosity of people like Nick that PAVE funds its work. Without his help and the help of countless other volunteers and contributors, PAVE would not be able to provide the 24-hour services which it offers to Bennington County families. From the first contact on the hot line to courtroom advocacy, emergency shelter, transitional housing, and supervised visitation for children of non-residential parents, PAVE's extraordinary staff assists victims of domestic and sexual violence. During the immediate crisis and then afterwards, PAVE provides the kinds of support that allow women to reclaim their lives and move from the nightmare of violence to safety and growth.
In 2013, PAVE assisted 700 people in need. PAVE provided 2,370 nights of shelter and assisted families' transition from emergency to stable housing. PAVE provided a safe environment for 58 children to visit with non-residential parents and offered a parenting program to parents and children. Finally, PAVE provided educational programs to approximately 3,000 teachers, parents and children in Bennington county.
If you would like to volunteer to help or make a donation to PAVE, call 442-2370 or send a check to PAVE Box 227, Bennington, Vt. 05201