A Connection to Safety and Services
Volunteer advocates are an integral part of PAVE, and become part of a valuable community-wide support system that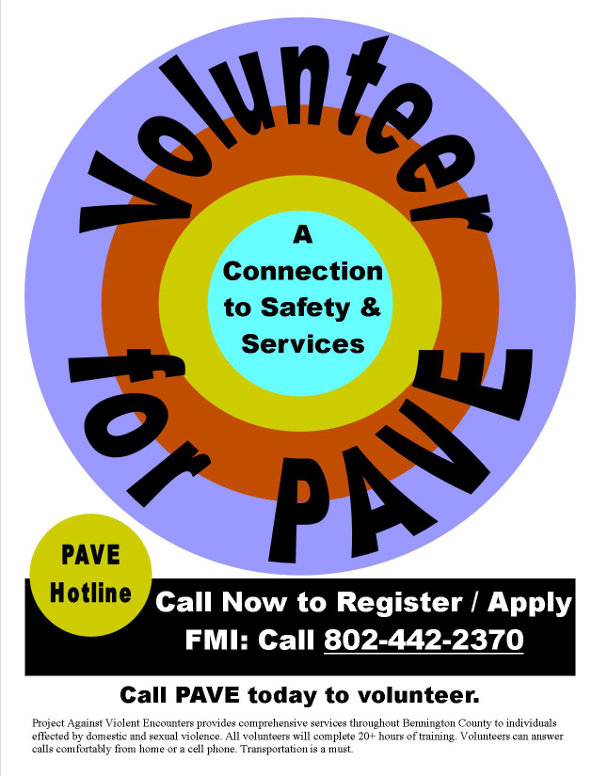 promotes and helps create positive outcomes for individuals and families affected by relationship violence. Please join our team of dedicated advocates  for the crisis hotline and court advocacy. All volunteers will complete 20+ hours of training. Volunteers can answer calls comfortably from home or a cell phone.
Since its inception in 1979, PAVE has relied heavily on volunteers to provide round-the-clock emergency crisis intervention, and assistance during court procedures. Our volunteers have included teachers, office managers, college interns, therapists, retirees, and survivors. The one component they have in common is their belief that no one deserves to be abused and their strong commitment to ending domestic and sexual violence.
No prior experience or specialized education is necessary; just a willingness to help. PAVE will provide relevant advocacy training that will increase a volunteer's confidence in his or her ability to provide a heightened level of support for and trust from victims of violence, and a degree of professionalism needed to work with various agencies within the community.
Call PAVE at 802-442-2370 or email for more information at outreachadvocate@pavebennington.com