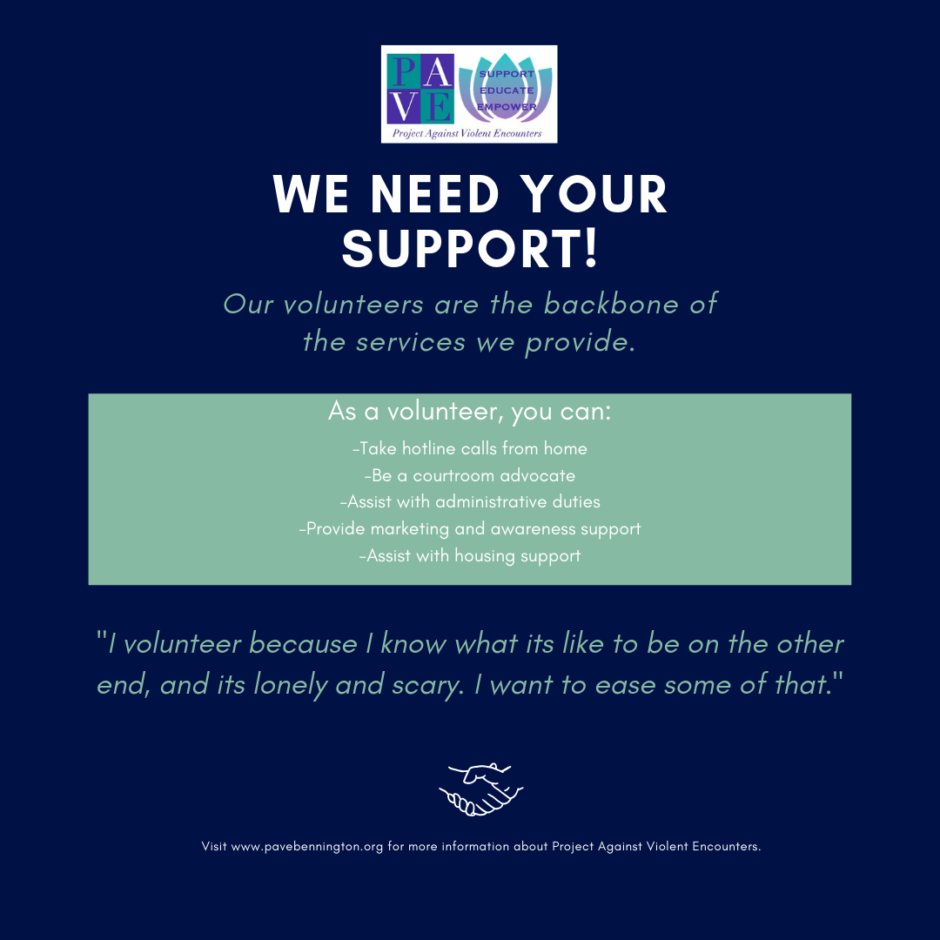 Project Against Violent Encounters is searching for more volunteers!
Are you kind, caring and compassionate?
Are you an exceptional listener?
Are you reliable and dedicated?
Are you able to remain calm under high pressure situations?
Do you believe in empowering people?
Are you interested in being trained on what domestic and sexual violence is?
Do you want to help end domestic and sexual violence in our community?
Are you knowledgeable or wish to become knowledgeable about our area's resources?
Are you comfortable going through a background check?
Do you want to be able to volunteer from your own home?
Are you looking for ways to give back?
Are you 18+ years old?
If you answered yes, to any or some of the above, contact us! We may be the right fit for you!
We have many different opportunities to volunteer including:
Hotline Advocate – Answers calls from own home, work, or cell phone. Responds to calls of people in crisis and must be able to spend time on the telephone listening, being supportive and making appropriate referrals. May need to assist people directly. Must have own transportation. PAVE provides mileage reimbursement. Must attend entire volunteer training.
Court Advocate – Accompanies victim to court. Will learn about relevant legal matters and how to assist in completing necessary paperwork. Provides support and information to victim and family. Must be available Thursdays, 8:00am-12:00pm, and have own transportation.
Office Support – Provides office telephone coverage. Works on projects in the office, from maintaining supply of PAVE brochures to organizing client inventory of supplies. Data entry. Assist with event planning.
Outreach – Marketing and awareness support. This may include distributing flyers; hanging posters around town; attending awareness events, set-up, manning the booth, meet and greets.
Housing – Helping set up the shelter space, organizing donations, cleaning, etc.
Please email [email protected] or call (802) 442-2370 for more information and a volunteer application.